ACO Working Group – Announces Readmission Reduction Pilot Program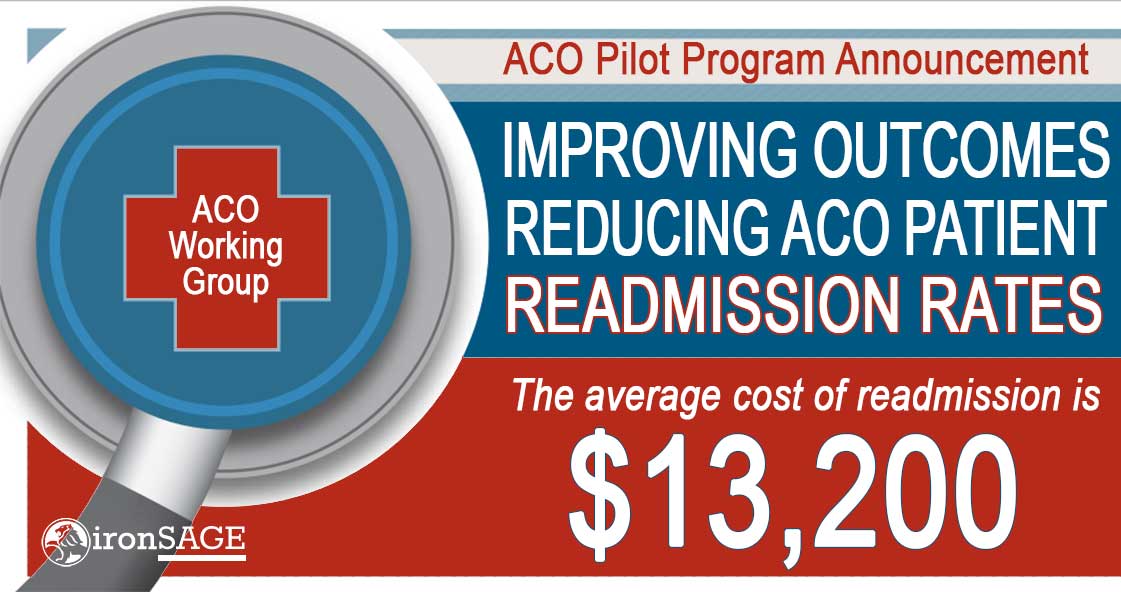 Every ACO wants to achieve the triple aims of improving the patient experience of care; improving the health of populations; and reducing the per capita cost of health care. The question is often "how" to best achieve these aims.

UPDATE: MSSP, IPA and ACOs interested in working with the ACO Working Group should contact Ron Garnett. Ron is Executive Director of ironSAGE Group, and serves as Chairman of the ACO Working Group. For additional information, contact us: email | phone 202.643.4766

UPDATE: CMS plans to assess hospital penalties using five readmissions measures endorsed by the National Quality forum. Read the original article written by Ilene MacDonald: Fierce Healthcare Original Article
A Focus on Reducing Hospital Readmissions and Length of Stay
Some readmissions are unavoidable, but many are the result of inadequate coordination of care, or lack of effective discharge planning and transitional care. The ACO Working Group is preparing to pilot a comprehensive, fully integrated ACO population health management solution. The group intends to focus initial implementation around the challenge of reducing hospital readmissions and length of stay. "The Working Group has plans to collaborate with a few select ACOs to pilot its solution, and demonstrate the effective cost savings that can be realized through its implementation," says Ron Garnett. Ron is the Executive Director of ironSAGE Group, and serves as Chairman of the ACO Working Group.
Readmission Reduction Pilot Program
The ACO Working Group will pilot an integrated continuum of care solution.  The pilot program will support:
Health Data Aggregation: Making information accessible where and when you need it (e.g., HIE, clinical, claims, multi-EMR, terminology mapping, unstructured data, etc.).
Risk Stratification: Generate insights and drive better decisions (e.g., readmissions management, patient population customizable filters, care gap reporting, population analytics, risk management, hospital acquired conditions, etc.).
Care Coordination: Drive improved outcomes for patient populations (e.g., EMR integration, patient registries, care transitions, care management, chronic disease management, care gap alerts, patient summaries, clinical decision support, and utilization management).
Patient Outreach and Activation: Promote healthier lifestyles for your patients (e.g., continuum of care patient portal, patient education, mobile engagement applications, automated interventions, response tracking, patient assessments, and wellness programs).
Four Capabilities for Success
Better Care Management Leads to Better Health Outcomes
The goal of the ACO Working Group pilots' is to work with participating ACOs to activate their patients through effective case manager interventions and pro-actively lower hospital readmission rates. Readmission following an acute care hospitalization is a costly and often preventable event. Recent statistics show:
20.1% of patient readmitted within 30 day
One-fifth of Medicare beneficiaries – more than 2.3 million patients – are readmitted within 30 days of discharge.
$1.9 billion potential annual savings
A Commonwealth Fund report estimated that if national readmission rates were lowered to the levels achieved by the top performing regions, Medicare would save $1.9 billion annually.
$13,200 is the average cost of a readmission
The average cost of a readmission is $13,200, according to the Healthcare Cost Utilization Project.
High readmission rates and institutional variations in readmission rates indicate an opportunity for improvement. Studies have shown readmissions within 30 days to often be related to coordination of care or other factors within the control of health care providers.
ACOs Interested in Participation
MSSP, IPA and ACOs interested in working with the ACO Working Group should contact Ron Garnett. Ron is Executive Director of ironSAGE Group, and serves as Chairman of the ACO Working Group. For additional information, contact us: email | phone 202.643.4766