Innovation – The CIO Leadership Opportunity
Today more than ever, technology-driven innovation is contributing to growth. Leading CIOs "operationalize" their innovation programs to create and sustain success.
As IT further evolves from transaction-oriented support function to key enabler, CIOs must leverage IT innovation to bring transformative change to the organization. This is a great opportunity for CIOs to step up and demonstrate leadership, to completely shed the cloaks of order-taking and "keep the lights on" operations. But the route to success depends on finding innovative ideas and clearing a path for them to become solutions that capitalize on today's digital disruption.
In a recent study on IT innovation, 90 percent of chief information officers said that technology-driven business innovation is crucial for achieving competitive advantage. Yet on average, only 23 percent of organizations report very positive results from IT innovation efforts. Why the disconnect?
Turning good ideas into viable, usable concepts requires a combination of ideas, prudent decision making, strategic awareness and an execution-based mindset.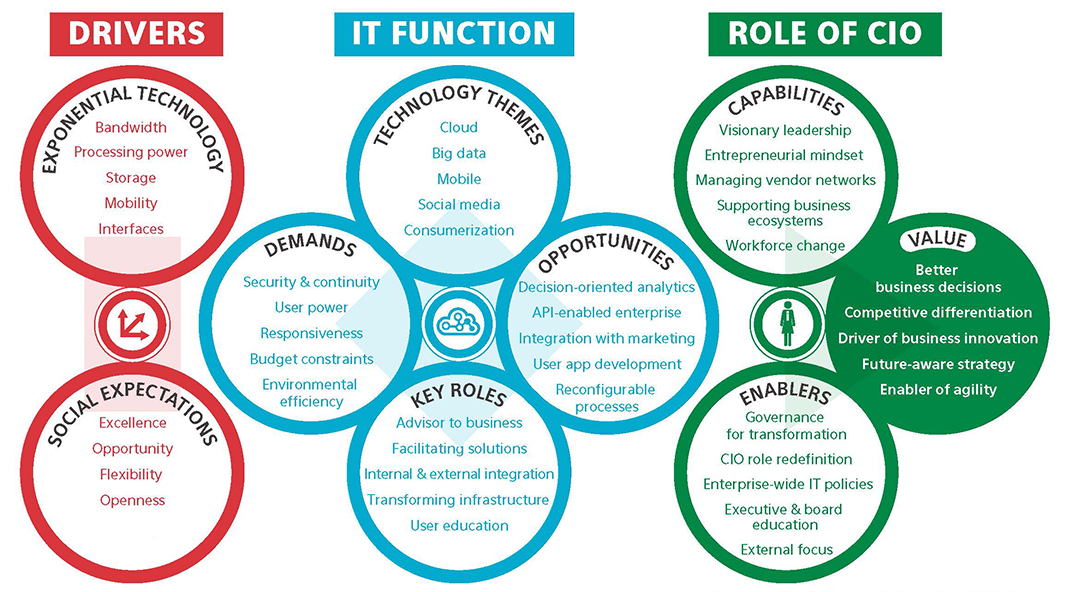 Generating Innovative Ideas
Where do these ideas come from? Ideas can spring organically within an organization or emerge from external entities. For instance, in 2008 Starbucks faced lackluster same store sales, with its share price being cut in half over the course of the previous two years. As part of the turnaround plan, the then-CIO of Starbucks, Stephen Gillett, created "Starbucks Digital Ventures" – an internal digital innovation incubator that was to operate in a separate division without being part of either IT or marketing. The unit collaborated heavily with these divisions and other consumer facing functions and reported directly to the CEO, Howard Schultz. This transformed the way Starbucks conducted business and engaged with customers.
Mobile payments, social media and customer experience management were all bundled under the "Digital Innovation" platform and the results were astounding – Starbucks sales roared back to life. The brand was voted the #1 most socially engaged company, with over 54 million Facebook fans; 3.4 million Twitter followers; and an active customer engagement system that solicited innovative ideas from customers through mystarbucksidea.com and launched about 275 ideas across its retail stores.
CIOs must go above and beyond their traditional role, and begin to generate transformative ideas and embed them within the organization.
Identifying the Best Opportunities for Innovation
Though innovation is important, it is critical to separate "good" opportunities from "bad" ones. How does one identify the most commercially viable and impactful opportunities for innovation that will have the desired impact on the organization?
ironSAGE assists organizations in seeing the forest among the trees, discerning patterns and identifying opportunities for innovation that will work best for the organization. With success being the ultimate aim, we apply a variety of tactics to get the job done. We recognize that technology is an enabling agent that must be applied to help the organization achieve it immediate objectives and long-term desired outcomes.
As the requirements of the CIO role evolve, ironSAGE is ready to help CIOs identify opportunities for innovation, whether it is new products, revenue growth, cost cutting or operational improvements. CIOs can work with ironSAGE to identify emerging technologies, evaluate feasibility, validate performance impacts, and facilitate the integration processes necessary for full scale implementation.
Contact Us
Learn how ironSAGE helps CIOs with emerging technology companies and large enterprise organizations succeed. Contact us: email | phone 202.643.4766.
About ironSAGE
ironSAGE is committed to helping both innovative solution providers and enterprise customers succeed. For large enterprises, we dramatically accelerate delivery of industry innovations, nextgen technologies and transformational business solutions. For technology providers, we accelerate business development efforts, from market vision – to solution demonstration – to large customer acquisition.
ironSAGE counts as clients many leading corporate enterprises, government agencies, research organizations, and emerging technology companies. Our technology development and deployment collaborations support a wide range of industries, including: education, energy, environment, financial services, healthcare, manufacturing, pharma, transportation, and many more.